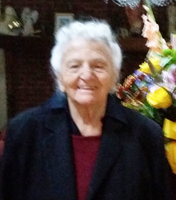 Margaret Mary Amisano
Margaret Mary Amisano of Elmira, NY, Age 96, passed away peacefully at her home on Sunday, December 31, 2017. Margaret was born on October 5, 1921 in New York, NY, the daughter of Felice and Felicia (DiFazio) Pellecchia. The youngest of 14, Margaret was scrupulous in her studies and convinced her father that nursing school was God's plan for her. She graduated as a Registered Nurse from Flushing Hospital Nursing School on October 1st, 1942, immediately after which she married Guido L. Amisano, the love of her life, at St. Leo's Catholic Church in Corona, Queens, NY. Six children followed over the next ten years: MaryAnne, Guy, Elizabeth, Adele, Agnes and Margaret's last child and great consolation, Denis, who arrived more than 8 months after Guido's untimely passing on August 28, 1952.
Guido's business partner, his brother Joseph Amisano, was married to Margaret's sister, Joy, who also had six children. Along with Joe and Joy and their children, Margaret moved the family and the Amisano Brothers' Pepsi-Cola business to Elmira, New York in 1956. Margaret became a good business partner and caring business leader, serving for many years as President of the Board. She was always grateful for the dedicated employees who helped Elmira Pepsi Cola Bottling Co. succeed for more than 45 years. Margaret was an active member and daily communicant of Our Lady of Lourdes parish in Elmira into her late eighties, and dearly loved her parish family. She loved her dear friends at the Monastery of Mary the Queen near her home on Larchmont road, and cherished her many friendships with fellow laity and those dedicated to the religious life. A devout Franciscan, she was professed to the Third Order of Saint Francis on May 26, 1959, and was humbled to serve for many years as prefect of the its Elmira Chapter. She made several religious pilgrimages in her life, including trips to Jerusalem, Lourdes, and Medjugorje. A special joy was her opportunity to attend Mass at the Basilica of Saint Francis in Assisi on the 800th anniversary of St. Francis' birth. She also traveled in Africa to visit the home parishes of some of her dear friends from Tanzania and Kenya who had served as priests in the Diocese of Rochester. Margaret had the ability to shape the simplest of trips into a religious pilgrimage. Her most regular road trip was that to visit the resting place of her beloved Guido, and surviving family members near Corona, NY – a trip she was proud to make independently until recent years, and on which she brought groups of grandchildren, explaining important rules for living a faith-filled life along the drive. Her large-font pro-life bumper stickers also made impressions on the trip.
Margaret died, appropriately, on the Feast of the Holy Family. She would want especially to remember her wonderful caretakers, led so ably by daughter Elizabeth. She loved them as fully, as her own. Margaret was predeceased by her siblings (she was the last of 14), beloved husband Guido L. Amisano , children Agnes Mary Amisano Donovan and Denis John Amisano Sr., granddaughter, (Denis' daughter) Elizabeth M. Amisano and son-in-law Bryan J. Lanahan. She is survived by her children MaryAnne Amisano Poland & Walter Poland, Guy L. Amisano Sr. & Mary Skidmore Amisano , Elizabeth Amisano Welch & George Welch and Adele Amisano Lanahan; daughter-in-law : Christina Kelley ( Mrs. Denis J.) Amisano ; son-in-law : William P. Donovan ; grandchildren : Gregory Poland, Felicia (Poland) Scarselletta, Guy L. Amisano Jr., Elaine (Amisano) Boris, John Amisano, Adele Amisano, George J. Welch, Joseph R. Welch, Bryan J. Lanahan Jr., Paul Lanahan, Bart Lanahan, Marcel Lanahan, Lisa Gabriele (Lanahan) King, Cara (Cleveland) Brzezinski, R.J. Cleveland, Damian Cleveland, Michael Amisano, Denis J. Amisano Jr., Michelle (Amisano) Fuksman , Margaret Mary Amisano , Theresa Marie Amisano Yandow. She is also survived by 56 great grandchildren and one on the way.
Relatives and friends are invited to call at the LYNCH FUNERAL HOME 318 WEST BROAD STREET HORSEHEADS , NY on Wednesday January 3, 2018 from 2-4 and 7-9 PM. Mass of Christian Burial will be celebrated on Thursday January 4 , 2018 at 11 AM at Our Lady of Lourdes Church 1100 West Church Street Elmira , NY . Words of Condolence and Memories may be shared at www.lynchsfuneralhome.com .