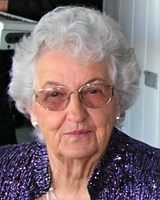 Martha Jane DeCamp
Martha Jane DeCamp Age 91 of Big Flats, NY passed away on September 20, 2021 at home surrounded by her family and caregivers. Born January 30, 1930 in Salvisa, KY. Martha was predeceased by her husband, Harold (Howie), her mother and father, Henry and Alice McMurry, sister and brother-law Albertine (Ancil) Moore, brothers and sister-in-laws James (Hazel) McMurry and Gordon (Vivian) McMurry and son-in-law Scott Andrews. She is survived by her children Belinda (Michael) Valet of Virginia Beach, VA, Tina Burt of Elmira, NY and Annette(Robert) Chamberlain of Owego, NY; niece Barbara (G. Terry) Greathouse; nephews Eugene (Sue) McMurry and Dr. G. Thomas (Carole) McMurry; sister-in-law Naomi DeCamp; grandchildren Chris(Kim) Burt, Ben(Salome)Valet, Deanna Burt(Eric Karius), Erica(Morgan) McKee, Emily(Devon) Anderson, Trevor(Mary Theresa) Andrews; 15 great grandchildren (Parker, Isabelle & Cooper Burt; Kendyl, Henley & Lilyana Karius; William, Oliver, Sebastian & Sophia Valet; Collin & Kahlan Anderson; Owen & Ella Andrews; Jaysen McKee.
Following high school, Martha attended Southern Brothers Fugazzi School of Business in Lexington, KY and received her diploma in May 1949. She began working as a secretary for 4 attorneys in Lexington and then took a job as a secretary at Corning, Inc in Harrodsburg, KY where she met her husband Harold. Martha left work to raise her family and moved to New York state in 1958 when Harold transferred to the Corning, Inc. Big Flats location.
Martha was a skilled seamstress, making many clothing items including, prom dresses and wedding gowns for her daughters. Martha and Harold had a large garden for many years and Martha spent many hours canning and freezing vegetables. She was a member of the former Central Christian Church in Elmira and active with the CWF women's group and activities.
Martha enjoyed RV'ing in her retirement years with her husband Harold and wintered in Kissimmee, Florida over 20 years.
A special thanks of gratitude to her caregivers Angela, Barbara, Liz, Jennifer, Beth, Kelly and Denise for their compassion and care.
Friends are invited to call at the LYNCH FUNERAL HOME 318 WEST BROAD STREET HORSEHEADS, NY on Sunday September 26, 2021 from 2:00 – 4:00PM with Martha's Funeral Services immediately following with the Rev. Susan Husted officiating. For those unable to attend the Funeral Service it will be livestreamed which you can access on our website at www.lynchsfuneralhome.com Burial will be in Rural Home Cemetery, Big Flats at the convenience of the family. Donations in Martha's memory may be made to the Big Flats Fire Company, 505 Maple Ave, Big Flats, NY 14814 or CareFirst, 3805 Meads Creek Road, Painted Post, NY 14870.
The link for the livestreaming of the Funeral Service is below